Codezeros Gains New 5 Star Review on Clutch Profile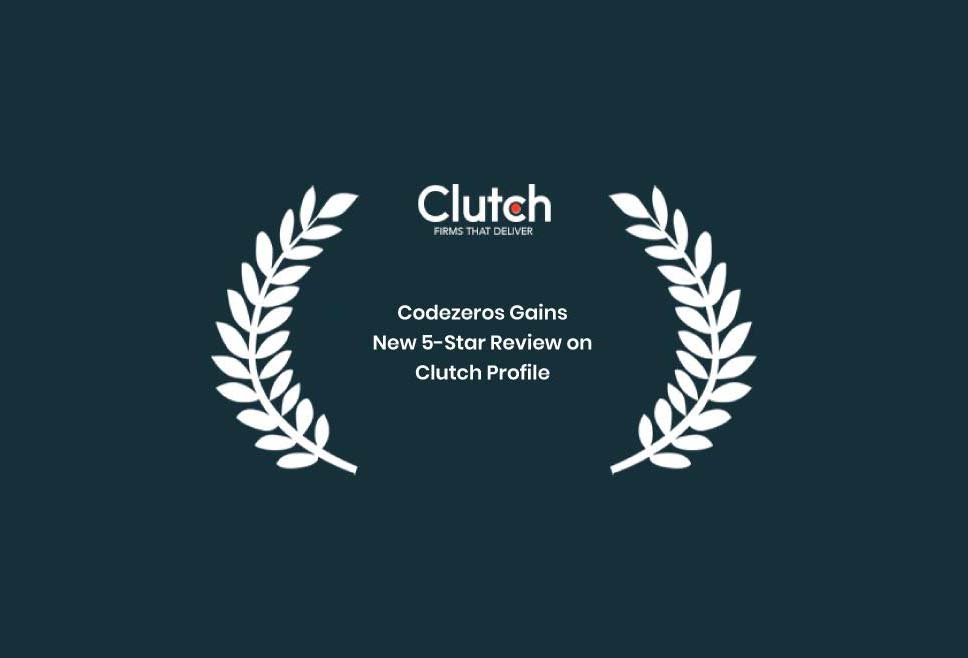 Here at Codezeros, we are a tech company that works on projects in the up and coming tech sector. Our main services we offer are blockchain, custom software development, and AR/VR development. Since we focus exclusively on the tech sector, we are able to work almost equally among small, medium, and enterprise businesses. Our AI services also include chatbots, cognitive computing, machine learning, and natural language processing. Clutch is a research and reviews firm which publishes thousands of company profiles on their website. Each profile includes a basic description, services offered, a digital portfolio, and most important reviews from real, past clients.
One of our recent reviews is a current project creating a digital wallet platform for a bitcoin mining company, VBit Technologies. The project exceeds the client's expectations specifically with cost-effectiveness, timeliness, and our actual ability to deliver a high-quality product.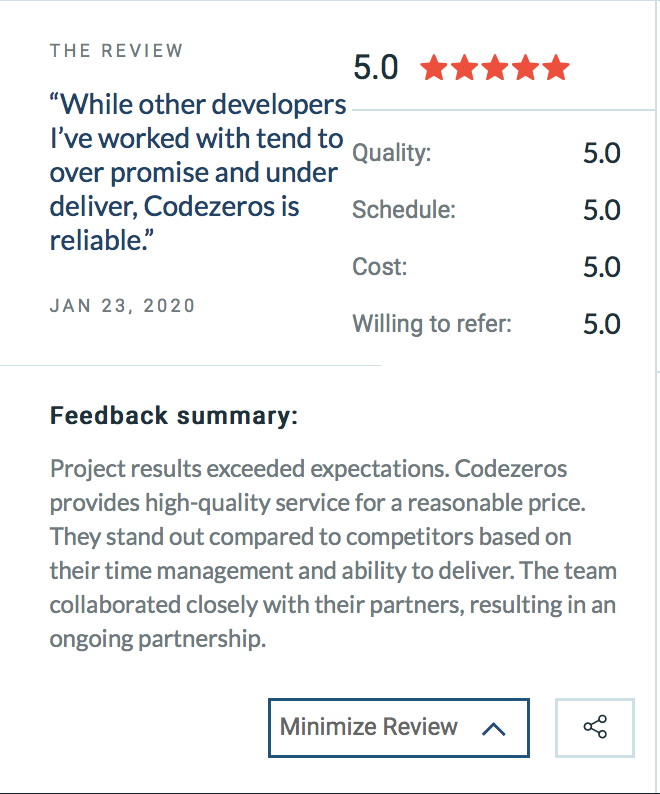 "They're very eager to please and they stand behind their work. I would rate them among the top ten developers I've ever worked with based on cost-effectiveness, time management, and ability to deliver. While other developers I've worked with tend to over promise and under deliver, Codezeros is reliable."
-CTO at VBit Technologies
Another one of our ongoing projects is with a blockchain company. We are assisting their team in conceptualizing the modules for a blockchain portal. We give the client weekly stand ups and daily updates on the progression of the project.

"The most impressive thing about the company is that they treated our project like their own. All brainstorming sessions during the conceptualizing phase were driven and their team took a very deep interest in our solution. They have been proactive in all aspects and this helps us as well."
-Rodrigo Boabaid, Co-Founder at Sunsets Capitals
Another website that Clutch works on is their sister site The Manifest. The Manifest allows customers to consult with industry experts through the shortlists of top performing companies, business how-to guides, and industry trends and news. Our profile on The Manifest is featured as a top 50 blockchain company.
We are so thankful for all of our customers who take the time to write us a review. If you want to learn more about how blockchain can benefit you and your business, drop us a line. You can also live chat with one of our team members today!
Post Author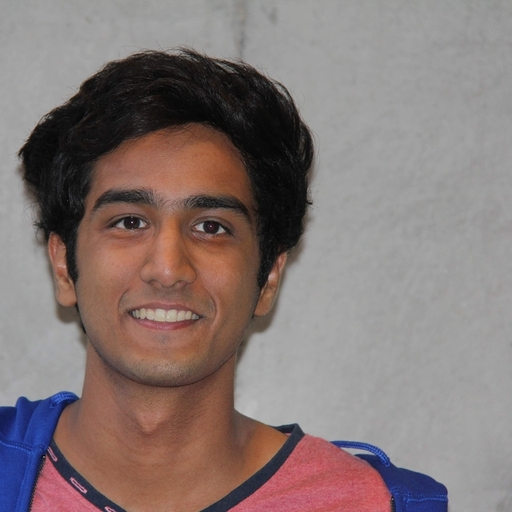 Jay Kapoor
With a genuine love for all things blockchain, Jay is one of the Blockchain Enthusiasts and Consultants at Codezeros. With a fresh and innovative perspective on the world of blockchain, Jay provides strategic guidance and implementation support to clients across diverse industries and helps them unlock new opportunities.